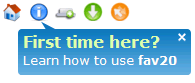 If you are for the first time on fav20, I added a tooltip on top that lets you open a window to learn how to use it.
I think this will come in handy because most of the first time visits don't know what is and how to use fav20.
You can always open the info window from the
icon on fav20.